Hello Gauchos!
Grant Workshops are now full.  If you signed up and there is space, you will receive an email in the coming days about registering for your chosen webinar.  If you did not get to sign up, check out our Spring Speaker Series below for free workshops with financial experts!
Spring Speaker Series (not grant workshops, yes giveaways!)
April is Financial Literacy Month!  To celebrate, Community Financial Fund is launching our annual Spring Speaker Series with 6 weeks of in-depth financial literacy programming with professional financial educators.
In Community Financial Fund's third installment of our Spring Speaker Series, we welcome Latinas Talk Dinero, Raylene Hernandez and Alejandra Magaña Gamero.  Tuesday-Thursday, April 20-22 at 5pm PST, Raylene and Alejandra will be hosting a three-day mini-series on (1) Financial Health/Trauma and Money Mindset, (2) Saving / Paying Off Debt & Financing Higher Education, and finally, (3) Just Got Hired, Now What?  These workshops can be taken together or independently, and as always, we will have our DoorDash drawings for those in attendance! See Descriptions and a Full Schedule of the Speaker Series Below.
  Register Here:
tinyurl.com/cff-LatinasTalkDinero1  
tinyurl.com/cff-LatinasTalkDinero2  
tinyurl.com/cff-LatinasTalkDinero3
See the rest of our Speaker Series Schedule (registration links below graphic):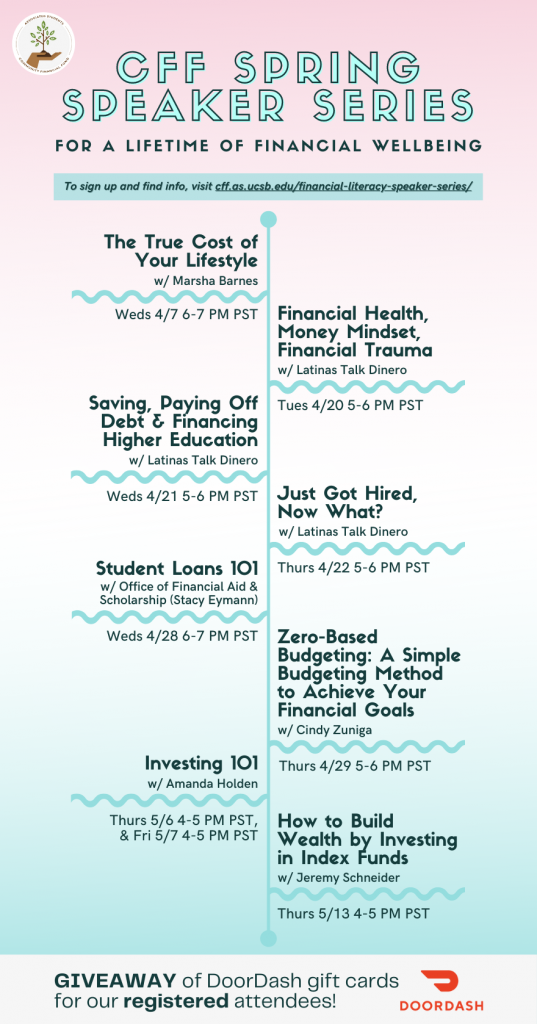 Registration Links:
https://tinyurl.com/cff-studentloans101
tinyurl.com/cff-zerobasedbudgeting
tinyurl.com/cff-investing101-1
tinyurl.com/cff-investing101-2